How to go about importing a Stocktake file into Total Control Premier
When creating a .csv file you need to make sure you have formatted the Barcode column to make sure no blank spaces or character symbols.

If you can format the cell to make sure it's numbers only. If you scroll down and remove any blank lines which can cause problems.

Your final file should look like the example below.

PLU code column and Qty column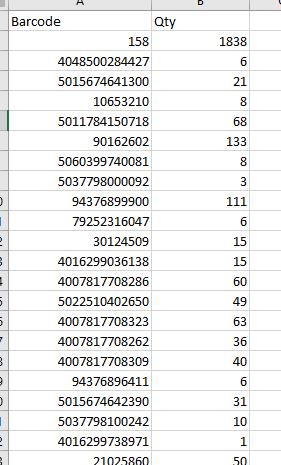 If you head into your Stock Functions and 'Select Other Stock related'.
If you now select 'Import Stock Transactions.


You will now see the following 'Import Data' box

If you now click Data and select 'Import'

Within the Type of Data if you drop down the field and select 'Stocktakes'.

Your import wizard will look like the example below.

If you like you can change the 'Validation Method' and 'select Import all Possible Lines (Ignore errors)' which is optional.

If you click on the dots on the 'Import file' line and locate your saved edited stocktake file which is now saved out as a .csv file.

Your screen will now look like the below.
If you now click 'next'

If you leave as default and click 'Next' again.

On the first column which is the product code column, if you can find 'Product Code' in the listing down the right-hand side and drag across onto the Product code column header.

You will then need to do this again and drag across the 'Quantity in Units' on the second column header.

You should only see two columns in here if you see a third like in my example if you can reedit your saved .csv file to remove the column and start again.

If you now click 'Next' on your finished import followed by clicking 'finish' which will start to import your file into the system.
Now head across into your stock takes and click edit to include all uncounted items as it was a full stock take.